Disclaimer
This information HAS errors and is made available WITHOUT ANY WARRANTY OF ANY KIND and without even the implied warranty of MERCHANTABILITY or FITNESS FOR A PARTICULAR PURPOSE. It is not permissible to be read by anyone who has ever met a lawyer or attorney. Use is confined to Engineers with more than 370 course hours of engineering.
Battery Tab Capacitive Discharge Welder
---
This is a distraction from the side project of the main project. I wasn't able to form a good Thermocouple weld with my spot welder (for my SMD oven) – reminded me of this project.
I've organized the material and sketched a schematic for a DIY C/D Welder. C-D-Welder
The original was overly complex with a transistor to turn on the SCR and a relay to disconnect the power supply. I'm thinking of adding an LED to the unused pole of the disconnect switch.
SCR 50RIA20 is getting hard to find in single quantity.
electrodes 5mm diameter copper rod, formed into a 0.75mm tip.
4 or #8AWG cable
Nickel sheet McMaster-Carr 9707K33 0.003 or sample pack from
http://sunstoneengineering.com/site/pages/batteryWeldingMats
IC1 is an STMicroelectronics (aka SGS-Thomson) L200C. L200CV
http://www.st.com/stonline/products/literature/ds/1318.pdf
DPDT Foot switch 600,000µF 25V – 40V 7805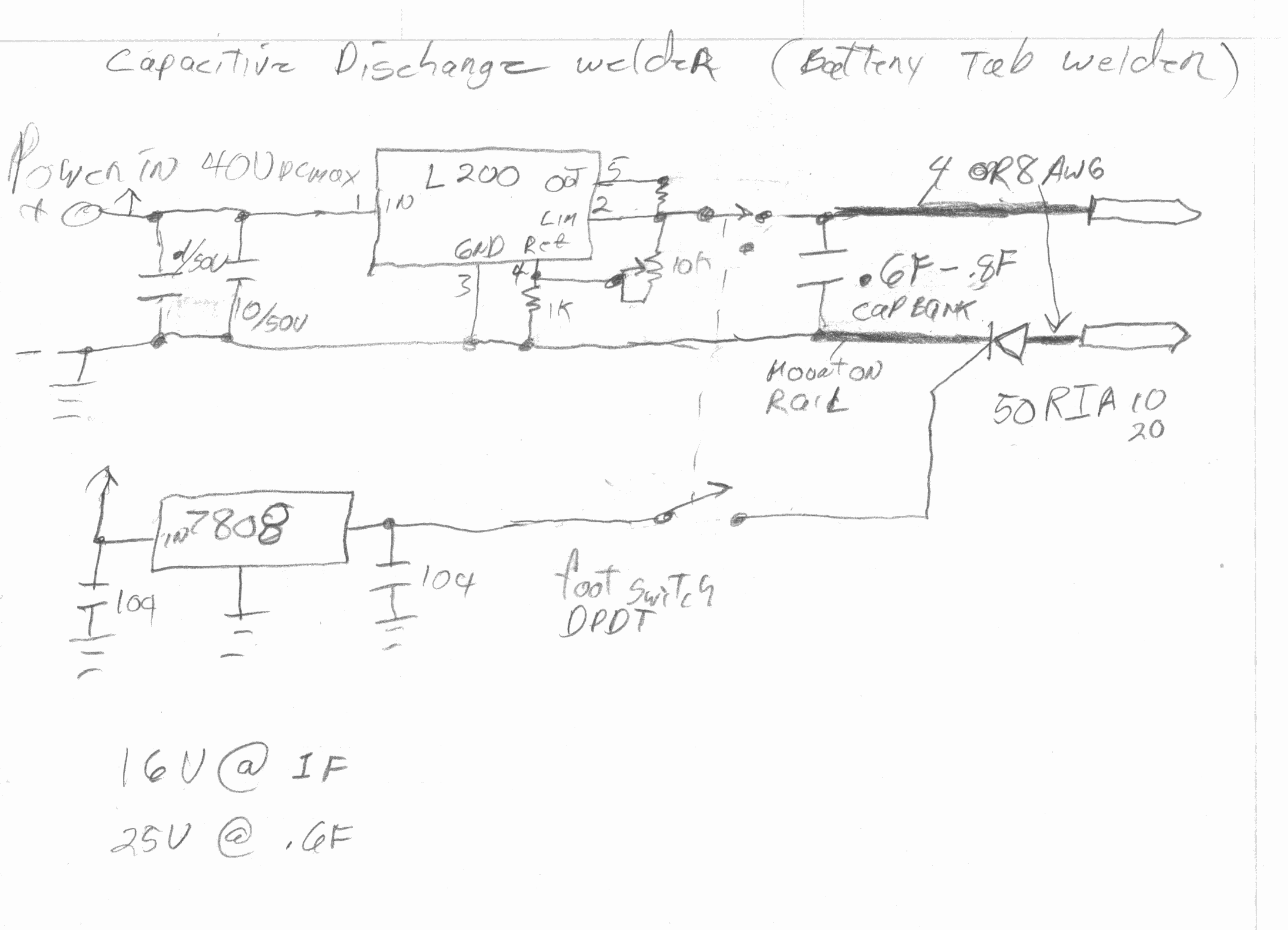 rough schematic of C/D Welder
Email